Improved Safety Measures
Requiring Nursing Homes to Adopt
Dorothy Cooper was a 62 year old nursing home resident who was repeatedly sexually assaulted by a nursing home employee.  She resided at Terrace West nursing home in Midland, Texas.  Because of a stroke and resulting paralysis she was wheelchair bound and dependent on staff for most of her needs.
Texas Health Enterprises, one of the largest operators of nursing homes in Texas, operated Terrace West nursing home.  Its employee, Johnny Gordon, was a powerful, 6'2″, 200 lb male nurse aide with an extensive criminal history, having served time in the penitentiary for burglary and forgery.  Mr. Gordon also had a history of physically abusing helpless nursing home residents.  Approximately a year before being hired at Terrace West nursing home, he had been terminated from New Horizons nursing home for repeatedly abusing a helpless, wheelchair bound resident.  Terrace West and New Horizons were both owned by Texas Health Enterprises.
Notwithstanding that its personnel director repeatedly recommended that it do so, Texas Health Enterprises kept no list of former employees who were ineligible for rehire due to abuse of a resident.  He estimated that approximately three times a month, residents in Texas Health's facilities were harmed by employees who had been rehired after having been previously fired for abuse and neglect of residents.  Despite the known danger this practice created, the company refused to implement a registry system, citing expense as the reason.  Interestingly, the company maintained a "worker's compensation abuse registry" which had to be checked to determine if a job applicant had filed any medical claims against the company for on-the-job injuries.
As a consequence of Texas Health's refusal to implement a system to prevent employment of job applicants who had been previously fired, Johnny Gordon was rehired at Terrace West.  He was given unrestricted access to female residents, including Dorothy Cooper.  As a nurse aide, Gordon's job duties included cleaning and bathing female residents, usually without the presence of a female employee.  Over a three month period, he repeatedly sexually assaulted Dorothy Cooper.  In order to hide his predatory conduct, Gordon threatened to kill Ms. Cooper if she ever revealed his ongoing assaults.
Sadly, sexual assaults in nursing homes occur more often than people realize.  The emotional scars that Dorothy Cooper carried with her until her death are testament to the need for more stringent hiring practices by the nursing home industry.  Her story demonstrates the unwillingness of the industry to bear any responsibility for hiring practices beyond the minimum requirements imposed by the State of Texas.  Dorothy Cooper and other nursing home residents like her need to be protected from predators that victimize vulnerable residents.
As part of the settlement of the lawsuit brought on Dorothy Cooper's behalf, The Marks Firm required Texas Health Enterprises to implement a system to ensure that unfit and dangerous individuals are denied access to defenseless nursing home residents.  The system was appropriately named the "Dorothy System."
Under the Dorothy System, Texas Health Enterprises was required to create and maintain a registry of any person who, within the past five years, was terminated for abuse or neglect of a resident in any of its facilities.  In order to create the database for the registry, Texas Health Enterprises was required to audit all personnel files at approximately 120 nursing homes for a 5 year period.  Any individual who was determined to have abused or neglected a resident had to be entered into the registry.  Thereafter, any employee who was determined to have abused or neglected a resident had to be immediately added to the registry.  No Texas Health Enterprises facility could offer employment to any person listed in the registry.  Prior to extending an offer of employment to any person in one of its facilities, the registry, maintained at central headquarters, must be checked.
Dorothy Cooper was a victim of the man who violated her and a victim of an industry that failed to protect her.  We hope that through the required implementation of the "Dorothy System", the tragedy that occurred in Midland Texas will never occur again.
Read more in "Legislation and Public Policy."
Click for Dallas Morning News Article
Legislation and Public Policy
In an effort to extend the protections of the "Dorothy System" to all nursing home residents in the state of Texas, Marks Balette Giessel & Young worked closely with the Human Services Committee of the Texas House of Representatives, 76th Legislative Session in helping author House Bill 3386.  The bill was an outgrowth of Dorothy Cooper's tragedy.  Marks Ballette Giessel & Young assisted in drafting legislation to correct a problem in the regulatory system that contributed to the victimization of Dorothy Cooper.
Under House Bill 3386, the Department of Human Services will be required to check criminal histories by name and by social security number.  In addition, the Department of Human Services will maintain a registry of all known abusers of nursing home residents.  A separate registry of patient abusers has been proposed which maintains abuse and neglect histories for all health providers.  House Bill 3386 also requires that all criminal history checks be submitted in type written form to avoid any legibility questions and typographical errors.
During the 75th Legislative session, our firm was actively involved in the passage of House Bill 413 and Senate Bill 190.  The bills were sponsored by State Representative Harvey Hilderbran, District 53, during the 75th Legislative session.  Prior to the passage of these bills, there was controversy within the judiciary regarding the admissibility of the results of nursing home investigations and surveys conducted by the Texas Department of Human Services.  Lawyers for injured residents sought to admit the results of these investigations, along with the surveys, to show the nursing home's knowledge of dangerous conditions identified by the State in its reports.  These bills clarified the intent of the legislature to allow the results of the investigations and surveys into evidence. They also clarified the obligation of nursing homes to comply with state regulations governing the facilities.
David Marks, our firm's founder, has been involved in legislative efforts to correct inadequate enforcement of nursing home standards by federal and state regulators for more than 20 years.  In February 1983, he first appeared before the Senate Special Committee on Aging to testify about widespread neglect, abuse and preventable deaths in nursing homes.  He also served as a member of the National Academy of Science, Institute of Medicine, Subcommittee on Nursing Home Regulation and Enforcement.
Testimony of David Marks: Hearing before Legislative Committee on Health and Human Services,
August 21, 1996
Testimony of David Marks: Hearing before Legislative Committee Human Services, April 6, 1999
At Marks Balette Giessel & Young, our concern for public health and safety and the protection of  the most  vulnerable members of our society means being actively involved in the arenas that shape law and public policy.
Our Lawyers Teach Other Lawyers
Because of our reputation and expertise, our attorneys are frequently asked to address legal organizations and to serve as faculty members for continuing education programs across the country.  We have lectured in Boston, New York City, Philadelphia, Washington D.C., Lexington, Memphis, Nashville, Atlanta, Tallahassee, Orlando, St. Petersburg, Tampa, Boca Raton, Miami, Naples, New Orleans, Houston, Austin, San Antonio,  Oklahoma City, Santa Fe, Phoenix, Las Vegas, Lake Tahoe, San Francisco, San Diego, Malibu, Detroit, Chicago and Toronto.  Our lawyers have presented on college campuses, including Harvard University, The United States Military Academy at West Point, Grove City College, Catholic University, Florida State University, University of Florida, Stetson University College of Law, University of Georgia College of Law, University of Houston  College of Law, South Texas College of Law, Texas State University College of Law and Pepperdine University School of Law.
Jacques Balette & Henry Giessel have served as adjunct faculty members at law schools, teaching trial advocacy and litigation skills.  Henry taught at the University of Houston College of Law and Texas Southern University.  Jacques taught at South Texas College of Law.
In addition to teaching lawyers and law students, our attorneys are frequently invited to teach nurses, physicians and other health professionals about the importance of complying with professional and regulatory standards designed to protect patients.  We believe it is important to share our litigation experiences with attorneys, regulators and health care providers in an effort to improve public safety and prevent neglect and abuse of patients in hospitals and nursing homes.
Engagement with Advocacy Groups
Marks, Balette and Giessel is a proud supporter of The National Citizen's Coalition for Nursing Home Reform, a non-profit advocacy group dedicated to improving the care and quality of life of all nursing home residents.  Since its inception in 1973, the National Citizen's Coalition for Nursing Home Reform has provided information and analysis on complex legal, legislative and regulatory issues surrounding long-term care issues.  They actively monitor state and federal regulatory developments by intervening on behalf of consumers, whenever necessary.  The National Citizen's Coalition for Nursing Home Reform publishes the "Quality Care Advocate", a bi-monthly newsletter with special reports.
Elma Holder, the founding director of The National Citizen's Coalition for Nursing Home Reform, has been recognized for her work as an advocate for nursing home residents.  Her motto has been protecting and empowering consumers who need long-term care not only saves the ones we love, but eventually…ourselves".  Ms. Holder's role has been instrumental in effectuating more stringent standards for the past three decades.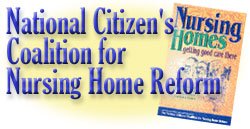 For more information on The National Citizen's Coalition for Nursing Home Reform, please click the image.
Contact Marks Balette Giessel & Young